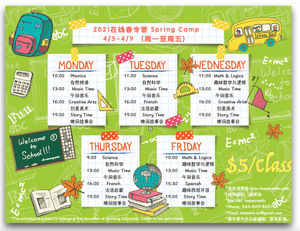 春假❀4/5-4/9/2021❀期间LeSpace为大家提供了半公益的欢乐课堂,请在上方选择您想参加的课程~
LeSpace want to cheer with you and celebrate the special spring break ❀4/5-4/9/2021❀ by these fun classes for your kids. Hope this new year will bring more hope and creativity to everyone.  Please choose the classes that you want to sign up.
我们使用Zoom上课,请用孩子的姓名报名,确认付费后会将上课链接发到您的邮箱。
Classes will be given through Zoom meeting. Please use your child's name to sign up. We will email you the class link once payment received.
如有疑问请咨询 Any questions, please contact us by:
Email: lespace.us@gmail.com | Wechat: lespaceedu | Phone: 949-800-8661
*Fees are non-refundable. No make-up class.